Product Overview
Gemini Navsoft Technologies Inc. (GNT) specializes in providing Global Navigation Satellite System (GNSS) positioning solutions not only for industrial applications but also for academic and scientific purposes. Our focus is on high precision positioning applications. Our products and services attract customers worldwide. We integrate GNSS hardware and other technology with our software to provide positioning solutions offering the highest performance.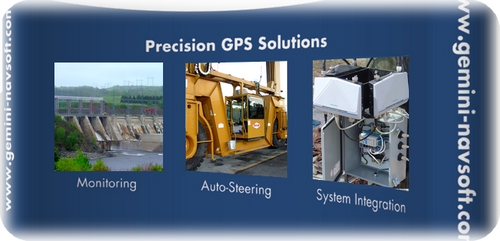 GNSS Deformation Monitoring
mmVu®, the GNSS deformation monitoring system, is the most advanced and sophisticated system which has been designed and built to satisfy the requirements being issued by all kinds of high precision deformation monitoring applications for civil structures and natural features. mmVu® is the right and powerful solution for the monitoring applications where safety is critical and timely alert is essential.
GNSS Machine Autosteering
SteerVu™, the GNSS machine autosteering system, provides the GNT autosteering logic controller with high-accuracy, high-performance GNSS navigation solutions and attitude information at a high data rate up to 100 Hz. SteerVu™ steers vehicles such as rubber-tired gantry cranes, cargo transport vehicles, lawn mowers and tractors using a "map and match" mode of operation. SteerVu™ is designed for use in repetitive navigation applications.
System Integration and Services
Our in-house expertise allows us to offer System Integration solutions to satisfy customer's specialized needs and most challenging applications. Various Services are also offered to our customers and Distributors to support their business and needs.